The founding of Saint Maron's Church, one of the first Maronite parishes in North America, dates back to June 15, 1865, when at 10:45 AM, the ship Rainbow (#176) docked at the Port of New Orleans. Sarkees Abraham, at 22 years of age, disembarked and began a long journey up the eastern seaboard of the United States. For the next two and one-half years, this brave pioneer traveled by foot and settled in Philadelphia, thereby becoming the first known Lebanese inhabitant in the Cradle of Liberty. He took an apartment on 10th Street between Catherine and Christian Streets. Unknown to him, twelve other Lebanese immigrants were to follow and in 1885 established themselves in Philadelphia, taking up residence at what is now 1173 S. 10th Street. These brave pioneers established the neighborhood that continues today as the heart and soul of the Middle Eastern community in the Greater Philadelphia region.
Concurrent with this initial immigration to Philadelphia was the development of the Maronite church. An oral parish history has Chorbishop Istfan Corkomaz, an itinerant Lebanese priest, establishing the first Maronite parish, known as Saint Maron's Church in 1895 on Washington Avenue between 9th and 10th Street. In "The History of the Maronite Catholic Church in the United States", records indicate that in March, 1891, Fr. Joseph Yazbek came to Philadelphia and baptized Joseph Burj before traveling on to Boston, Providence, Worchester, Buffalo, Cleveland, New York, and many other cities and before the arrival of Chorbishop Istfan Corkemaz the records show that a Latin rite priest Rev. Patrick Ryan was helping the Maronites. However, official records in Bkerke mark the establishment of St. Maron's as of March 1899.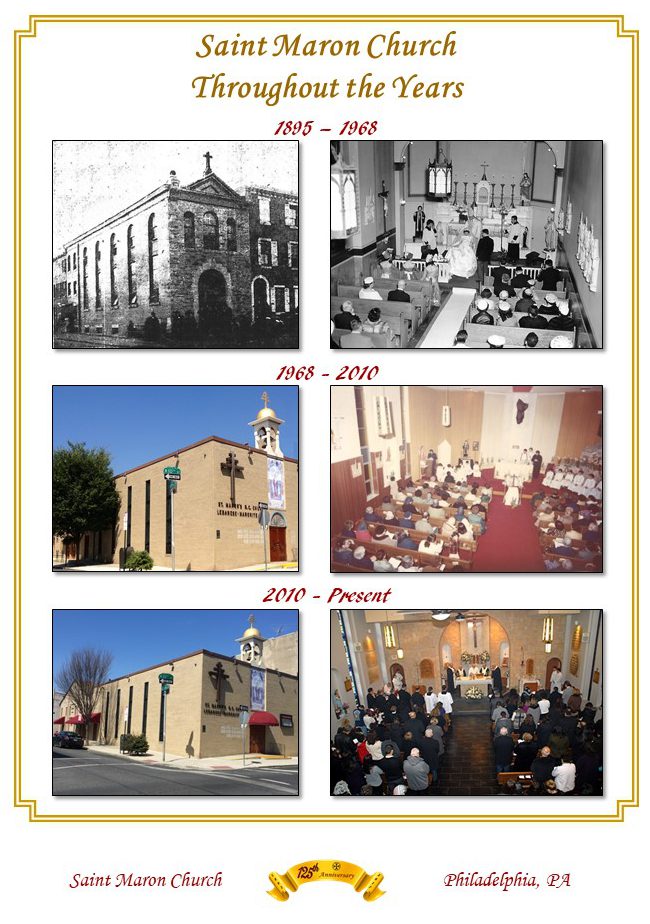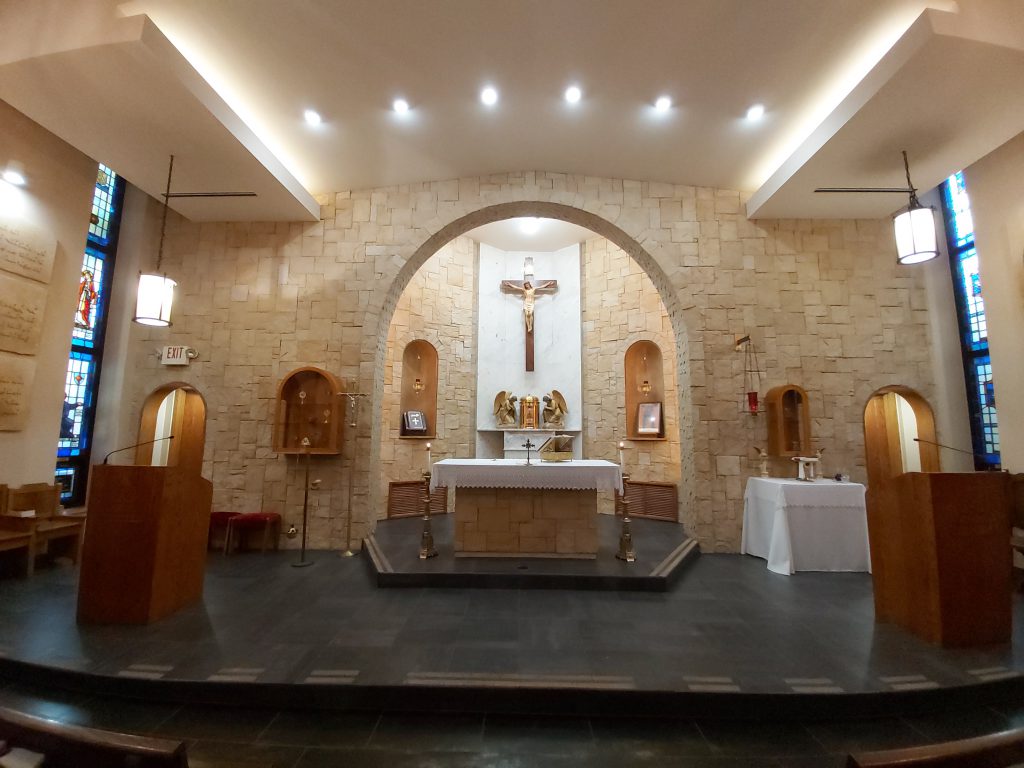 Around 1891, Saint Maron's Church moved from its Washington Avenue location to 931 Ellsworth Street. Oral history references that the church was housed on the second floor of the Ellsworth Street location with a Michael Gussin as sexton. On October 2, 1899, the seal of Saint Maron's Church was made and read "Saint Maron's Church of the Syro-Maronite Missions in USA."
Corkomaz remained in Philadelphia until 1907 when official church records mention the arrival of Chorbishop Joseph Yazbek. On March 2, 1907, Yazbeck dedicated the "new" church at the northwest corner of 10th and Ellsworth Streets where it has remained. Archbishop P. J. Ryan of Philadelphia, who had previously asked for a permanent Maronite priest, was present at the dedication.
Interestingly, Father Yazbeck's first mass in Philadelphia was said at Saint Paul's Church on Christian Street between 9th and 10th Streets. It was at Saint Paul's school that Father Corkomaz registered the first of many Lebanese students, a young girl known as Marika Joseph Gussin in 1901. It was during the years between the 1895 and the early 1900's that some of Saint Maron's Church earliest families became established. These families have remained devoted members for 125 years. These early settlers never forgot their homeland and in 1925 founded the Lebanese Charitable Society, which was chartered to collect funds to help their countrymen and women in Lebanon.
During the Chorbishop Yazbek's assignment at Saint Maron, Rev. Joseph Keirallah Yazbek served as Assistant Pastor from 1913-1015, and Rev. Anthony Peter Yazbek served as Assistant Pastor from 1920-1924.
Yazbeck remained at St. Maron's until 1925 when Chorbishop Louis Zouain assumed the role as spiritual head of the Maronite community. It was during his stay that the first choir was established and, most probably, had as its first singer, Najdaj Khoury, his niece. A major work of Father Zouain was translating the psalms and hymns of the Maronite mass to English. Church records indicate that Chorbishop George Zouain served as an Assistant Pastor from 1927 – 1930. The next few years saw a succession of pastors including Fr. Emmanuel Hanna who served from 1931 until 1934, and Fr. Anthony Peter Yazbek who served from 1934 until 1936.
Rev. John Nehme was appointed pastor in 1936 and served through World War II during which many sons of the parish saw active service in defense of freedom. Nehme was succeeded in 1948 by Rev. Louis Rischa who, in 1966 oversaw the demolition of the original church and the building of what is considered the "new" church. Rischa remained until 1968. After the administrative service of Fr. Joseph Bistany in 1968, the parish gained a new pastor in 1969 with the arrival of Fr. Joseph J. Shaheen, the first American born priest to serve St. Maron's.
Each of these spiritual leaders, in their own unique manner, contributed to the stability and development of the church and the Maronite community in the Greater Philadelphia region, while also helping to integrate the Lebanese into the mainstream of American life.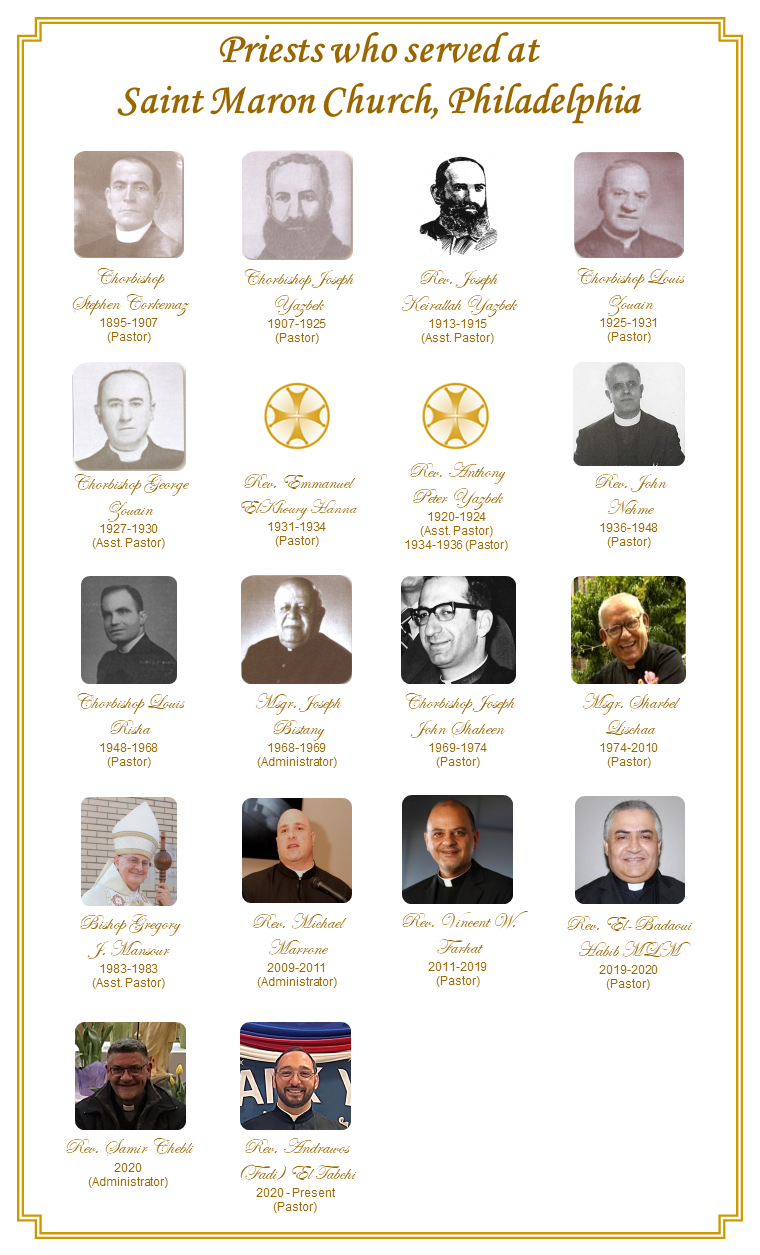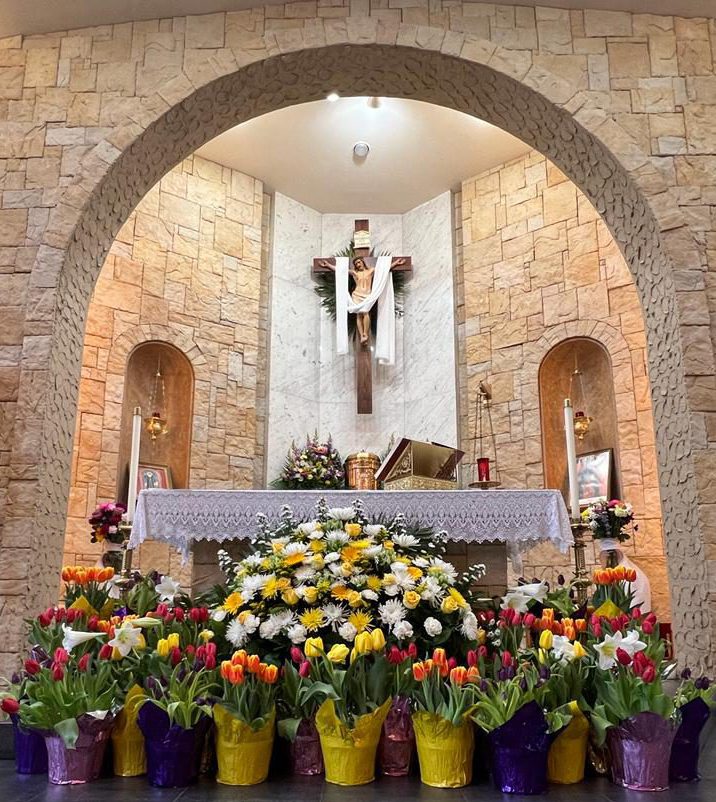 In 1974 Msgr. Sharbel Lischaa became the ninth pastor to lead this historic parish. His impact on St. Maron's and the surrounding community could not be overstated. As the longest-serving pastor in parish history, Msgr. Sharbel is widely credited with enhancing the church building, constructing the Hall, and establishing the annual Lebanese Festival in 1976. His musical prowess was legendary, and he personally trained many seminarians in the intricate Syriac and Aramaic chants of the Maronite liturgy. Under his guidance and direction, the parish grew and prospered. In addition, Msgr. Sharbel was instrumental in the establishment of the original mission in Newtown Square, known as The Saint Sharbel Mission, which continues today as the second Maronite parish in the Philadelphia region. Rev. Gregory Mansour, who would later become bishop for the Eparchy of Saint Maron of Brooklyn, served as Assistant Pastor to Msgr. Sharbel in 1983.
St. Maron's was honored by the visit of the Patriarch of Antioch in May 2008, the first ever visit by a Patriarch to the parish. In October 2010, Msgr. Sharbel's retirement was accepted by Bishop Gregory Mansour, and he maintained a residence at Saint Maron's Church until his death on August 2, 2011.
Upon Msgr. Sharbel's retirement, Bishop Gregory Mansour appointed Fr. Michael Marrone, a priest of the Archdiocese of Philadelphia whose maternal family counts itself among the original members of the parish, as Pastoral Administrator. During his tenure, Fr. Marrone established the parish's first CCD program. He also undertook many capital improvements to the property, including the installation of beautiful stained-glass windows which were purchased from a church which had closed in the Archdiocese of Philadelphia.
In May 2011, Bishop Gregory Mansour appointed Fr. Vincent Farhat as the Pastoral Administrator of Saint Maron's Church effective August 2011. In June 2013, Fr. Farhat was officially assigned as Pastor of Saint Maron's Church.
Fr. Farhat undertook an aggressive outreach strategy to strengthen the parish. He expanded the CCD program to nine full classes from Pre-K to MYO serving 60 students. In 2013, he oversaw a major renovation of the Church Hall which is now known as the Msgr. Sharbel Lischaa Community Center – Saint Maron Hall. This building provides an entertainment and meeting space for the church community, as well as the surrounding geographic community. The rectory was completely renovated in 2016. In response to the current geo-political challenges facing Christians, he created immigrant services for refugees, community services for those in need, as well as youth outreach services.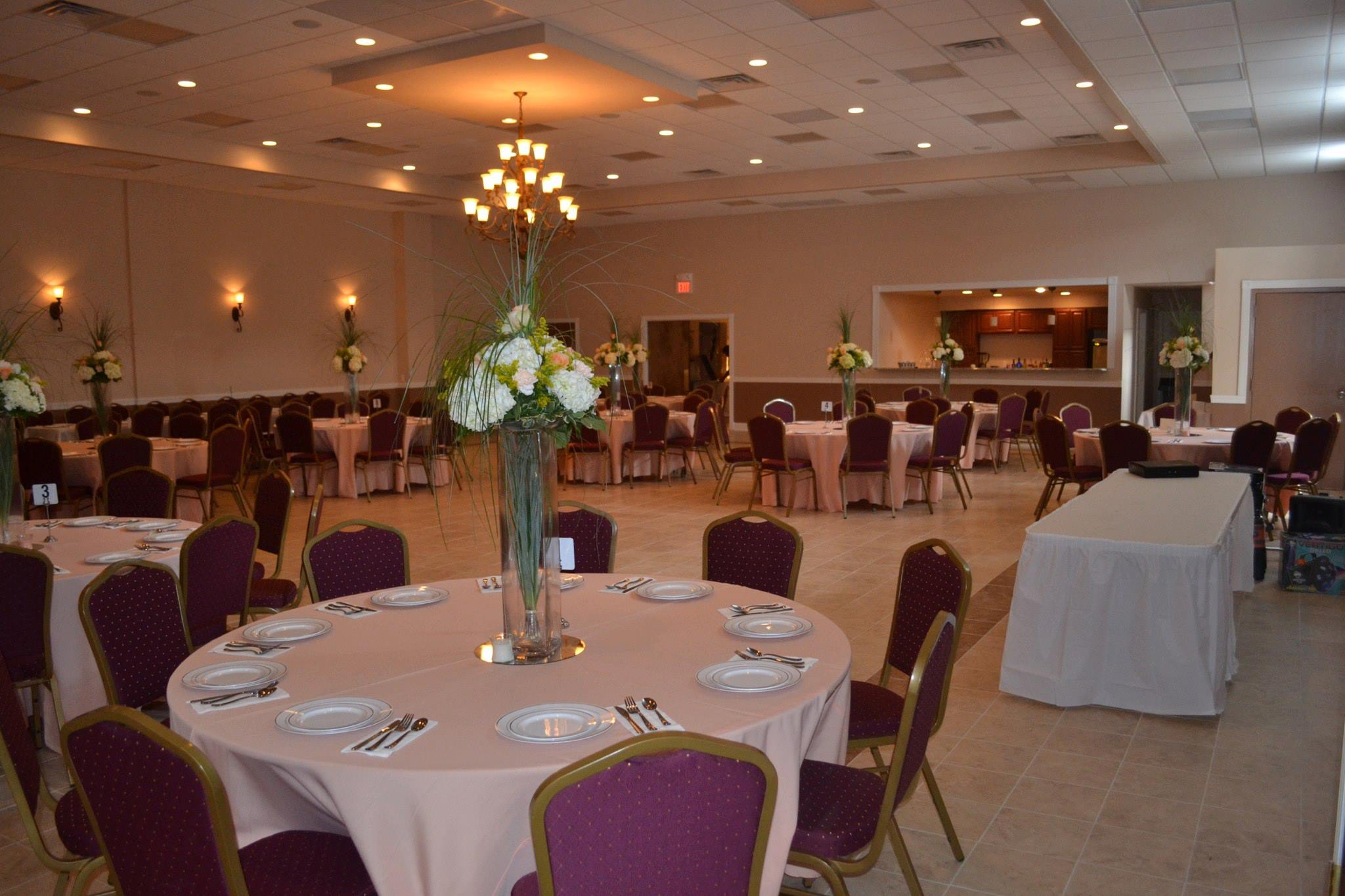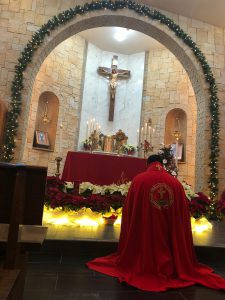 In October 2019 Fr. Farhat was succeeded by Fr. El-Badoui Habib who remained until March, 2020 when Fr. Samir Chebli arrived to serve as Administrator and guide the parish through the first dark days of the COVID19 pandemic.
Fr. Chebli remained until October, 2020 when Fr. Andrawos El-Tabchi was appointed Administrator. In October, 2021 Bishop Mansour appointed Fr. El-Tabchi as Pastor. Under his leadership, Fr. El-Tabchi guided the parish out of the COVID 19 pandemic, has undertook physical restoration projects of the parish buildings, and reestablished the parish's annual Lebanese Festival.
The history of Saint Maron Church is a long and rich history. It is one that the parishioners, whether original or new, are proud to be a part of. Their dedication and hard work have ensured that this Church reach a milestone of 130+ years. No doubt that with the spirit and dedication of this great community, with the help of St. Maron, and Our Lady of Lebanon we can be assured of a fruitful future. May God bless Saint Maron Church forever.