The righteous shall flourish like the palm tree: like a cedar of Lebanon shall he grow. (Psalm 92: 12)
Dear Friend:
For over 125 years Saint Maron Maronite Catholic Church has served men and women who emigrated to the United States from Lebanon as well as the generations of their descendants in bringing them closer to the love of Jesus Christ. St. Maron's is a community built upon faith and love. In addition to our Lebanese families we are proud as a parish to boast that we are truly the pride of South Philadelphia in that our parish family consists also of faithful men and women who are not of Lebanese decent, but rather men and women who have been attracted to the spirituality and traditions of our Maronite Rite.
I welcome you to visit our church and participate in our Divine Liturgy on Sunday at 11:00AM. Our Divine Liturgy is one of our most prized possessions as Maronites and we wish to share it with you.
It is my hope and prayer that you will find the information in this website helpful in learning about our parish community which serves families throughout the Greater Philadelphia region. Whether you are a long-time parishioner, a new member interested in becoming more involved in our parish, or someone discerning whether to join our community, I invite you to look  more closely at the faith community of St. Maron Maronite Catholic Church.
In Christ,
Saint Maron Maronite Catholic Church
Click Here
Religious Education

 (CCD & MYO) Registration is open.

Classes Start Sunday, September 10, 2023.

MYO Retreat:

Retreat open to all parishes in: New England, Mid-Atlantic East and Mid-Atlantic West regions.

Registration closes on September 22nd.

2nd Collection: September 10, 2023

Catholic University of America & Maronite Seminary

St Sharbel (Newtown Square) Annual Festival

– Friday, September 8, 2023 | 4pm – 11pm

– Saturday, September 9, 2023 | 12pm – 11pm

– Sunday, September 10, 2023 | 1pm – 9pm

Block Party: Saturday, September 23, 2023

Preps:

– Tuesday, September 12, 2023 @ 4:00 PM – Butter Cookies

– Wednesday, September 13, 2023 @ 3:00 PM – Maamoul

– Thursday, September 14, 2023 @ 2:00 PM – Grape leaves

– Friday, September 22, 2023 @ 1:00 PM – Chicken Kabob, Beef Kabob, Garlic-paste, Tahini Sauce, Babaghanouj…

– Saturday, September 23, 2023 – Setup starts @ 9:00 AM

Blue Mass: St. Michael Feast Day on Friday, September 29, 2023 @ 11:00AM
Appreciation Lunch: Sunday October 8, 2023, following Divine Liturgy.

This is an excellent opportunity to come together as a community,
have some fun, and support our church.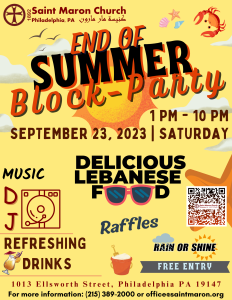 In gratitude to our
Police Officers, Firefighters, Law Enforcement Officials, and First Responders.
We pause to recognise and pray for all Our brave brothers and sisters
 who sacrifice their lives for our Safety and Well-Being.
Thank You For Your Service.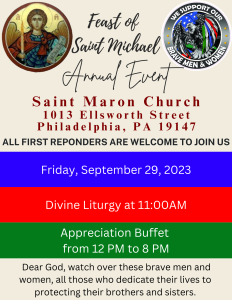 Sunday, October 8, 2023 – Following Divine Liturgy
All Festival Volunteers are welcomed to join us for an "Appreciation Luncheon"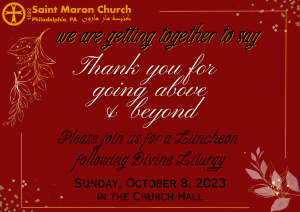 Friday, October 20, 2023, to Saturday, October 28, 2023 @6:00 PM
Join us in prayer for St. Jude the patron saint of Hope!
For you mass intentions during the Novena, contact the Church Office @ 215-389-2000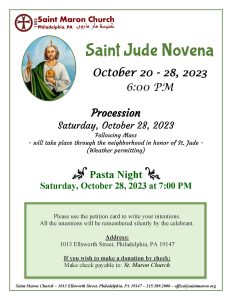 Click on the title
to be directed to the (The Maronite Voice) website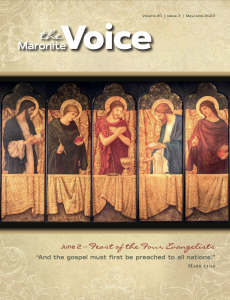 For more INFO, Click on the title