Order Online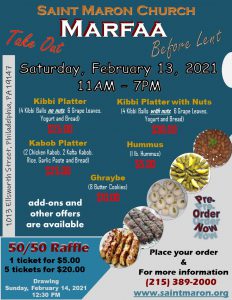 St. Maron Church is having a one day Marfaa Take Out on February 13, 2021 from 11AM to 7PM.
You, your friends, and your neighbors will be able to order great Lebanese food for lunch and dinner for pick-up from St. Maron Church to enjoy at your homes!
You can pre-order your delicious Lebanese food now, or place your order the same day!
For more information you can contact the Church office at: 215-389-2000